L'Échappée Jurassienne – Gourmet hike
7 days to discover the magnificent winegrowing villages of the Jura.
This hike combines the discovery of a remarkable heritage and a multifaceted nature. In the evening, the stages combine comfort and gastronomy… What a program!
Departing from the Royal Saltworks of Arc et Senans (Unesco World Heritage Site) this itinerary crosses the "Good Country", i.e. Revermont, situated between the plain and the Jura mountains. These lands of vineyards and their hillsides offer breathtaking views, with their famous cliffs and secluded spots. This is a very special terroir, as is its fauna and flora, but also its wines, which can be surprising!
The itinerary will make you discover magnificent wine-growing villages, built with beautiful stones. Arbois, Château Chalon, Frontenay, Baume les Messieurs, are all villages of character, full of history and know-how. Churches, castles and abbeys stand out in this preserved nature, where the landscapes are different at every bend in the road… In short, a week of total immersion in a world full of history and flavours!
Hiking in freedom – Duration of 7 days – Departure all year round according to your availability and your possibilities.
Durée(s) disponible(s) :
7 jours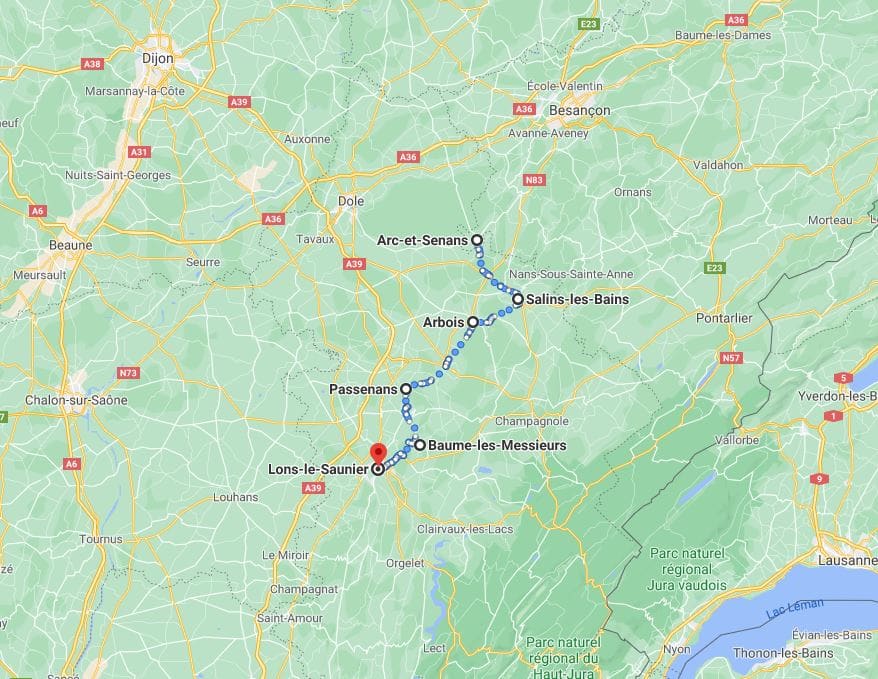 Day 1
Arc et Senans
Reception in a*** bed and breakfast in Arc et Senans (or a*** hotel in the Royal Saltworks with supplement) from 18:00. It is interesting to arrive early in the afternoon to take the time to visit the Royal Saltworks (ideal city of the visionary architect Claude Nicolas Ledoux built in 1775).
Day 2
Arc et Senans – Salins les Bains (23 km; +380 m)
This first step takes you to Salins les Bains.
Day 3
Salins les Bains – Arbois (22 km; + 1050 m)
This stage joins Arbois, capital of the Jura wines, then the wine-producing village of Pupillin. Night in a charming bed and breakfast
Day 4
Arbois – Pupillin – Arbois (21.5 km ;+990 m)
Loop stage starting from Pupillin via Arbois and la reculée des Planches. Night in a charming bed and breakfast. It is also possible to plan this day as a rest or a visit of Arbois (capital of the Jura wines) with a drop-off in Arbois by car provided by the guest houses.
Day 5
Arbois – Passenans (22 km; +690 m)
Stage joining Passenans, and his Relay of Silence.
Day 6
Passenans – Beaume les Messieurs (22 km ; + 690 m)
On this day, the itinerary takes you to Baume les Messieurs and its 16th century abbey. Night in a charming guest room in the abbey
Day 7
Beaume les Messieurs – Lons le Saunier (14 km; + 560 m)
Stage joining Lons le Saunier by the remote area of Baume les Messieurs. End of the hike at Lons le Saunier station. Luggage deposited in a hotel opposite the station. Numerous trains during the day between Lons le Saunier and Arc et Senans (duration 45 mn)
Home : day 1, in the late afternoon (the welcome point will be confirmed at the time of booking)
Hiking record delivery.
Dispersion : End of your hike in Lons le Saunier station. Return by train to Arc et Senans (at your expense about 10/11 euros). Indicative daily afternoon train times from Lons to Arc et Senans: 15H01 – 16H05 – 17H01 – 17H13 – 18H01. Direct line – 40 to 50 mn drive
Framing : hiking in freedom, without guide
Accomodation : 2 nights in hotels *** ; 4 nights in bed and breakfast *** or label Charmance – Base room for 2 pers. with private sanitation. In Passenans, you have access to the swimming pool of the hotel classified Relais du Silence. The contact details of the accommodation will be provided to you with your hiking file.
Access by car : Arc et Senans is located in the department of Doubs (25), inside the triangle Besançon – Dole – Salins les Bains. 35 km from Besançon on the RN83. 35 km from Dole on the RN5. 35 km from the A39 / Bersaillin motorway exit on the RN83. At 55 km from Lons le Saunier by the RN83
Parking : For the time of the hike you can leave your car on the free car park of the railway station of Arc et Senans. If you choose to spend the night inside the Saltworks, private car park of the Saltworks, which is 5 minutes from the train station.
Departure possible every day from May 1st to September 30th. Attention hiking often unavailable for the periods of Ascension and Pentecost.
You will find below the list of prices per person for the year 2021. The price depends mainly on the number of nights desired, the type of room and luggage transport.
Double, Twin or Triple Room
Single Room
With luggage transport
Without Transport
With luggage transport
Without Transport
6 nights
695,00 €
–
915,00 €
–
Prices are per person
Possibility to ask for an extra night as an option
The price includes :
Accommodation with half board at each stage
Luggage transport
A road book
The FFRP topoguide
The loan of 1/25000 maps + map holder + GPS track
The price does not include :
drinks
picnics
The return by train from Arc to Senans
personal expenses and insurance
anything not indicated in "Price includes".