Our history
Europ'Aventure, creator of hiking holidays in the Ardennes since 1985 !
Hiking in total freedom! "That's the credo of Europ'Aventure!
Whether you are an experienced hiker or a beginner, eager to discover, travel with family or friends, in a group or on your own. Whether you are hiking, biking, mountain biking or even horseback riding. Europ'Aventure organizes your stay to measure!
Europ'Aventure is a travel creator, inspired by its forests and country roads.
Europ'Aventure was created by Denis Jusseret and Geneviève Goosse, two passionate hikers, in Sainte-Ode, in 1985. Originally, Europ'aventure was initiated to offer a new product in Belgium: hiking in complete freedom, crossing the Ardennes with luggage transport. Over the years, Europ'Aventure has established itself as a key player in the development of hiking in the Ardennes.
In 2019, Europ'Aventure was taken over by Jean-François Lambert, another enthusiast of hiking, nature and the organisation of "active" holidays. Anchored in the Ardennes, Europ'Aventure has never left it and, after being based in Sainte-Ode, a small village in the province of Luxembourg, the company is now located in Saint-Hubert. What better way to design hiking programs than to be located in the centre of the Ardennes forest massif, a mecca for walking!
In addition to setting up hikes in the Ardennes, Europ'Aventure has also invested in the creation and resale on the Belgian market of hiking trips in France, Italy and the rest of Europe.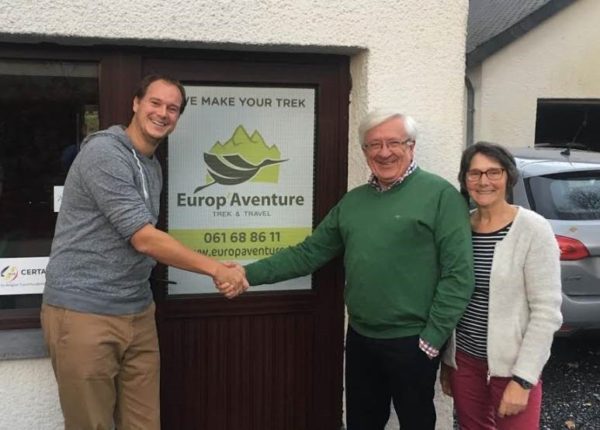 An undeniable know-how
An agency that knows its products and whose experience makes the difference
Europ'Aventure is a recognized and involved player in the field. By bringing hiking enthusiasts to its lands, it intervenes in local and regional life, as an economic enterprise of tourist interest within the framework of territorial development and as an actor of regional animation. Our stays are designed according to your wishes and your budget!
hiking in freedom, without a guide
hikes with professional guides
thematic stays, "discovery" stays in Belgium or abroad
meetings with the local population in a spirit of conviviality
sports activities on request (running, Nordic walking, marathon, white water activities, winter activities)
levels of difficulty listed in the data sheets allow a judicious choice to be made
Our commitments
The Ardennes specialist
Europ'Aventure has been THE specialist for hiking in the Ardennes for more than 30 years. We are located in the heart of the region, close to nature and have developed our own itineraries in the region. Our expertise is unrivalled and we are happy to advise you on the region's curiosities.
Luggage transport
For total comfort during your day, Europ'Aventure will take care of transporting your suitcase. You leave it at the hotel reception when you leave in the morning. It will be waiting for you at the next accommodation upon your arrival. This allows you to carry only a small backpack, your camera and your picnic during the day.
Our certifications
Our professional recognitions
Europ'Aventure is an active member of the UPAV (Union Professionnelle des Agents de Voyage). It insures you against all security guarantees via the Travel Agency Guarantee Fund and via professional civil liability insurance imposed by law.
Founding member of Wallonie Aventure Nature Tourisme (W.A.N.T.)
Member of Wallonie-Bruxelles Tourisme
Adherent to the Ardenne brand
Europ'Aventure is a travel agency certified by

Our partners
A close collaboration with recognized partners, tourism and hiking enthusiasts.
In addition to the recognition of the community, the partnership with the professionals involved. All our partners are lovers of nature and tourism. We have been working with them for many years with confidence.
One of the privileged partners of Europ'Aventure is La Maison de la Randonnée – GTA Belgium.
This association, created 30 years ago, designs itineraries and marks out the circuits with internationally recognised GTA markings (yellow and white and white wave). It maintains the paths and trails so that walkers can find their comfort. La Maison de la Randonnée – GTA Belgium is recognized as a tourist association by the CGT. It also publishes books, topographic maps (produced in collaboration with the National Geographic Institute), topo guides and road-books corresponding to its itineraries. They are translated into different languages (NL-EN-DE-EN). You can find these books for sale on our site.
Let us also underline the excellent collaboration that Europ'Aventure maintains with hotelkeepers, restaurateurs, guides and all other professionals of the regions concerned both in Belgium and abroad.
Europ'Aventure offers stays designed by incoming agencies located abroad that offer quality programs, combining discovery of the region, sports activities and human encounters. Europ'aventure has the guarantees of efficient collaboration with its foreign partners recognized by the professional world.